Pregnancy Week 19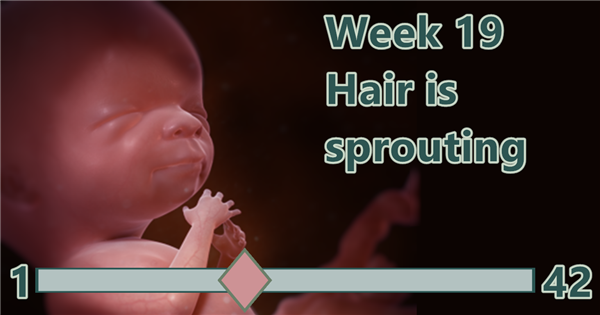 "Hair is sprouting on your baby's scalp."
More About Week 19:
This is a crucial time for sensory development. Your baby's brain is growing the different areas of the brain for sight, smell, touch and feel.

Your baby's arms and legs are now in proportion with his/her body.

Your baby pats and strokes his or her placenta, which is soft and cushion-y like a pillow.

If your baby is a boy, his prostate is forming this week.

Your baby now has pads on his or her fingertips and toes.

Your baby weighs about 8-9 ounces now.

Healthy Pregnancy Tips for Week 19
Recommended Reading:
This is a DVD. Yes, you have to exercise during pregnancy to maintain health and build stamina for childbirth and parenthood. Pilates does this beautifully. Ideally, you're taking a regular, weekly exercise class in your community. Between classes, this is a terrific DVD for women who want a terrific workout at home.
See More Recommendations For the Second Trimester from BirthWatch