Pregnancy Week 24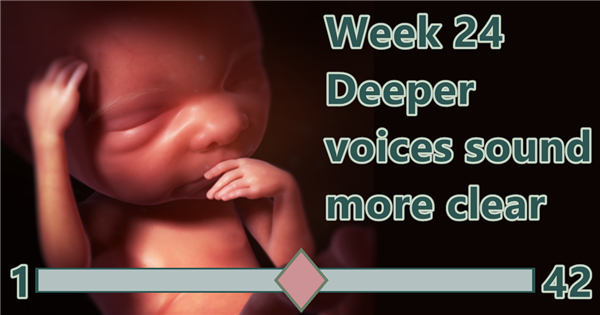 "Your baby can more easily hear deep, male voices than higher-pitched female voices."
More About Week 24:
The baby is developing taste buds.

Your baby's lungs are developing bronchial branches.

Surfactant is a substance that helps your baby's lungs inflate on the first breath of life after birth. The baby is now producing cells now that will create surfactant.

Your uterus is not a quiet place. Your baby is enjoying the gurgles and hisses of your organs.

Your baby has distinctly formed lips now.

Your baby begins to yawn after 24 weeks. Yawning is a special skill that helps baby's brain develop fully.

The baby is most active between weeks 24 through 28.

Healthy Pregnancy Tips for Week 24
Recommended Reading:
This is a DVD. Yes, you have to exercise during pregnancy to maintain health and build stamina for childbirth and parenthood. Pilates does this beautifully. Ideally, you're taking a regular, weekly exercise class in your community. Between classes, this is a terrific DVD for women who want a terrific workout at home.
See More Recommendations For the Second Trimester from BirthWatch