Pregnancy Week 17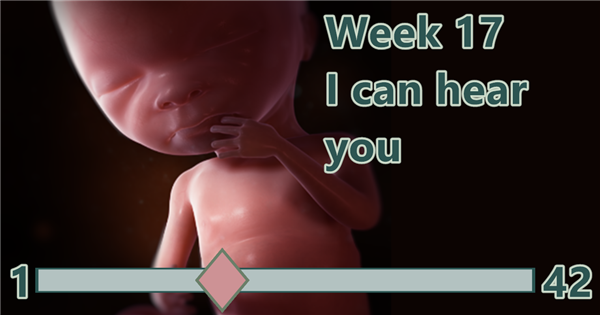 "Your baby's sense of hearing is developing."
More About Week 17:
Your baby's umbilical cord is growing longer, stronger and thicker each day.

A mother may be feeling the very first movements of her baby now..even if she doesn't recognize it.

A mother may feel like she has more energy and less nausea now that she's in her second trimester.

Your baby is shedding cells into his or her amniotic fluid. These cells can be captured during an amniocentesis procedure for chromosome analysis.

Your baby may have hiccups.

Your baby is very active performing somersaults, kicking and rolling over.

Healthy Pregnancy Tips for Week 17
Recommended Reading:
This is a DVD. Yes, you have to exercise during pregnancy to maintain health and build stamina for childbirth and parenthood. Pilates does this beautifully. Ideally, you're taking a regular, weekly exercise class in your community. Between classes, this is a terrific DVD for women who want a terrific workout at home.
See More Recommendations For the Second Trimester from BirthWatch