Pregnancy Week 34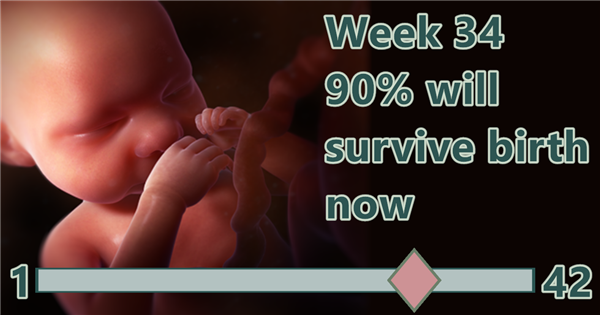 "90% of babies born this week will survive. The healthiest babies are born between 39 and 41 completed weeks of pregnancy."
More About Week 34:
Maternal antibodies are crossing the placenta now and the baby is developing immunities to mild infections.

Babies yawn and dream in utero. REM (dream) sleep is important for helping develop neural connections in baby's brain.

Your baby's eventual birth weight depends almost solely on the mother's genes. Father's size has almost nothing to do baby's birth size, even though his genes will contribute a great deal to baby's eventual adult size.

In developed countries, babies average 7 1/2 pounds at birth.

Babies stick out their tongues in utero to taste amniotic fluid. Amniotic fluid changes flavor about every 3 hours and takes on the flavors of mother's last meal.

Your baby may weigh about 5.25 pounds now.

Healthy Pregnancy Tips for Week 34
Recommended Reading: