Pregnancy Week 10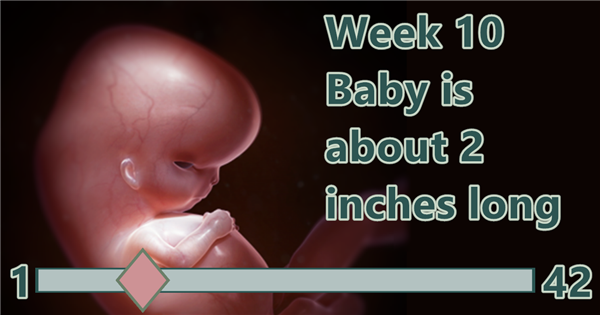 "Your baby is about 1 1/2 inches long now."
More About Week 10:
Your baby's liver is now making blood cells.

Your baby's brain appears large and bulges over the forehead because it's developing very rapidly now.

Your baby's fingers no longer have webs between them.

Your baby's arms and legs are growing fast.

Your baby's umbilical cord contains the developing intestines. These will soon move into baby's abdominal cavity.

Your baby's hands hands still look more like paws than hands.

Healthy Pregnancy Tips for Week 10
Recommended Reading:
This is a DVD. Watch this DVD (available for purchase at Amazon.com or at your local library or through Netflix) in your 1st or early 2nd trimester and think about how your prenatal appointments are going. Are you satisfied with your care provider? Are your appointments long enough for you to get answers to all your questions? Do you leave feeling listened to and respected? The Business of Being Born can help you sort out your feelings about what you need in a maternity care provider. If your fit isn't right now, it's not going to improve in the labor and delivery room. Continue to shop around for the care provider that fits you best.
See More Recommendations For the First Trimester from BirthWatch