Pregnancy Week 41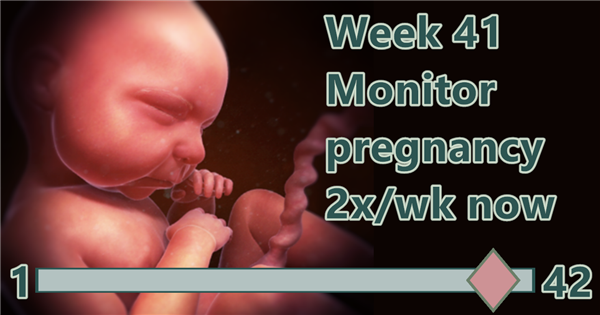 "Pregnancies that last beyond this point should be monitored twice weekly to make sure the baby remains healthy while waiting for labor to begin."
More About Week 41:
Your baby may have peeling skin immediately after birth, which is common after a long bath in amniotic fluid.

It's normal for the amniotic fluid volume to decrease in the last weeks of pregnancy.

It's common for first-time mothers to go into labor closer to 41 weeks rather than 40 weeks.

Cesarean-born babies can still be breastfed immediately after birth.

Colostrum is the first breastmilk a mother makes and important for a baby to receive immediately after birth. Colostrum helps mature baby's immune system and helps baby pass meconium within the first 24 hours after birth.

The healthiest weight for babies to be born is between 7-8 pound. On average, babies born at this weight are healthier the first year of life than babies born signficantly smaller.

Healthy Pregnancy Tips for Week 41
Recommended Reading: